OUR CAMPUS AND INFRASTRUCTURE
Nestled in the lap of nature, is the Ram Ratna International School (RRIS) campus is located in the green zone of the Keshav Srushti arena. Just 9 kms away from the Mira Bhayander city centre, the school is located in the serene 220 acre green zone near the Maharashtra judicial academy and training centre. Scroll to discover more on our dream campus that we share with 50 unique bird species.
Located atop the plateau section of the hillock, the RRIS school building is positioned at a vantage point overlooking the entire area from the school across the valley and the lake. This makes our classrooms bright and airy with natural ventilation of fresh air blown in by the breeze at speeds of 3-4 kmph. 
The school building is oriented in the east west direction to get the best of both directions and make the learning environment perfect for focus and concentration. 
RRIS has a comprehensive functional experiential learning framework for students with state of the art laboratories equipped with highly sophisticated equipment and dedicated workstations to accommodate an entire batch of students at the same time. 
The labs are our centres of experimental learning for science subjects like biology, chemistry, physics and also other experiential subjects like art, mathematics, and technology. 
At the same time, students and teachers are supported by experienced and qualified lab assistants following the highest standards of safety and care. 
The school library and reading room is a wide bright and well-ventilated hall located in the heart of the school building. The RRIS library houses over 3000+ titles ranging from science and technology, language and literature, history and fiction, bestsellers and classics in diverse formats like books, magazines, spreadsheets and more. 
With a special focus on reading and speaking, we drive home dual objectives of building fluency, enriching knowledge and enhancing communication in our students.  
Our library also has its own book preservation lab managed by the students known as the book hospital. 
Play is the heart of learning at RRIS. We have 2 dedicated play areas for children – one for children aged 5 – 12 and another exclusive space for toddlers. 
These spaces have well-maintained play equipment like merry go round, see-saw, swings, slides and ring climbers for children to get complete exercise when playing. 
Each space has a dedicated attendant to watch out for the safety of children as they play along. 
A 360-degree sports experience is the core of learning at RRIS. RRIS is the only school in the entire region to have a full fledged sports stadium. Our 20000 sqft sports stadium facilitates an entire spectrum of sports ranging from track and field to cricket, and football. 
The sports stadium is the venue for regular sports practice of students and is the venue for the annual school sports day event.  Additionally, this stadium also hosts several inter-school track and field and sports events for other schools in the Mira Bhayander and Mumbai region. 
In addition to the outdoor sports stadium, RRIS has a world-class indoor sports auditorium for indoor sports like volleyball, badminton and basketball. 
While ensuring the sporting activity for students continues uninterrupted even during the monsoon season, this indoor sports complex also gives the students a dual sporting ambience and experience for sports like volleyball that is played both indoors and outdoors. 
Sporting action is mentored by highly experienced and expert coaches dedicated to individual sports. 
RRIS has a 7 lane swimming pool for students for a comprehensive exposure to water sports. Children learn swimming skills starting at an early age mentored by an expert swimming coach. 
With hi-tech water management facilities, the swimming pool is maintained as per international standards. The swimming pool arena has separate sections of shower rooms, locker rooms and changing rooms for boys and girls. 
Water play for younger kids is done in smaller inflatable pools and starts from an early age as young as 4 and 5 year olds. 
RRIS has a full-fledged indoor acoustic auditorium for hosting grand scale events of the school like dance and drama, annual day celebrations, conferences, seminars, guest lectures, special sessions by dignitaries and  TedEd talks. 
A fully integrated sound and lighting system give students a surreal experience of a public platform to prepare them for oratory skills in public arenas. This also enhances their personas for public speaking and expression.
The school building also has a soundproof conference room with state of the art communications technology and equipment to host important events for teachers and students.  
Hosting smaller events this conference room is often used by students to conduct practice sessions for IIMUN and TedED.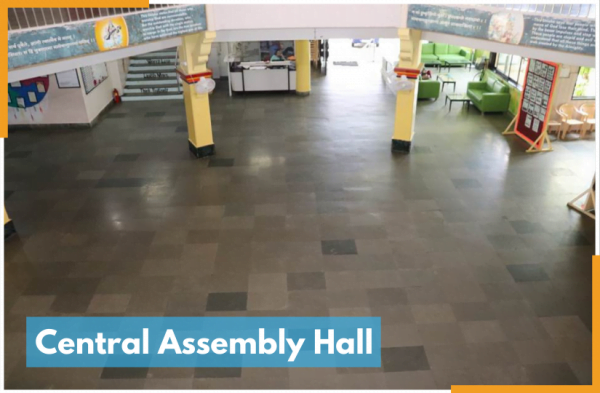 Keeping in line with our philosophy of given diverse and open learning spaces the central assembly hall is an open area located at the centre of the school building. It is the venue for everyday prayers, weekly assembly sessions by every class. 
Flanked on each side by the classrooms this is the centre of all activity in school. Students right from nursery to grade 10 are shaped up for public speaking in this arena every day. 
RRIS has a full-fledged mess facility for students serving nutritious food for the complete growth of the mind and body of the child. With a highly hygienic kitchen manned by expert cooks and chefs, the Annapurna hall has a seating capacity for 300 students. 
The kitchen sources fresh vegetables from the Keshav Srushti farms and fresh milk from the Gaushala to serve natural and nutritious meals for students development.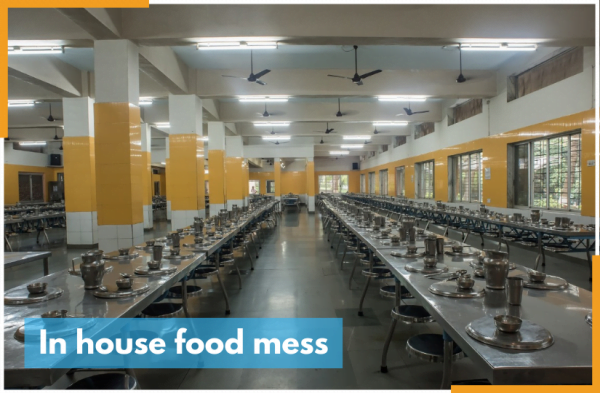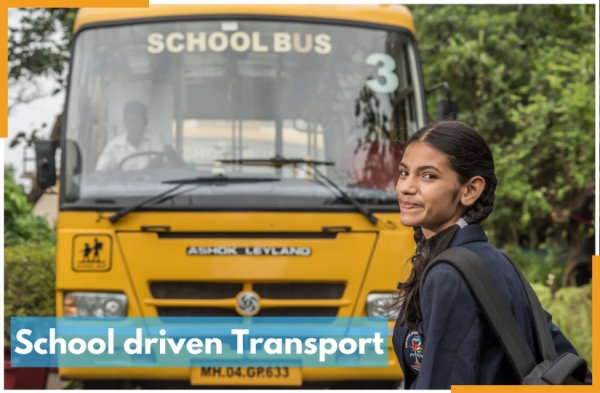 RRIS has its own in house transport fleet of well-maintained school buses to ferry students comfortably from their doorstep to the school and back to their homes.
The buses are driven by verified drivers and manned by lady attendants to ensure the complete safety of the students during travel to and from the school. 
Additionally, the buses are fitted with high tech GPS systems monitored in real-time by the school authorities.